Lead generation is one of those vital activities that can be "feast or famine." While some weeks you have more leads than you know what to do with, others go by with zero leads, and it seems like your website has dropped off the face of the earth.
One way to kickstart your marketing efforts and drive more leads is through lead magnets. They're called "magnets" for a reason! They're designed to reel people in by giving them a shiny object so you can then add those leads to your sales funnel to convert them.
There are several types of lead magnets you can use to attract different target audiences. I'll go through some of the most popular below and give you actionable ideas you can use on your own site to supercharge your sales.
What Makes a Good Lead Magnet?
Lead magnets are worth the time and effort you put into them. Studies have shown that lead magnets can increase newsletter opt-in rates by nearly 85%.
Getting someone's email address is generally the first step in the lead process. This allows you to add them to email drip and nurturing campaigns that help convert them from website visitors to customers.
Before we get into the individual types of lead magnets you can use in your marketing engine to drive revenue, let's go over the purpose of a lead magnet and what makes a good one.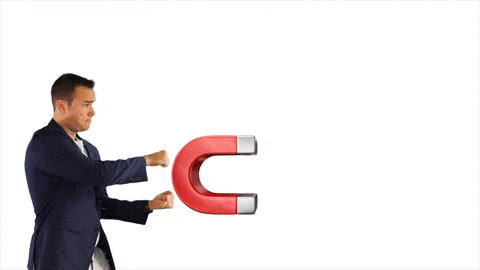 A lead magnet is designed to get someone to give you their contact details in exchange for something they consider of value. The object of value is provided for free, and all a person needs to do is provide an email address, and perhaps their name and company name.
Some of the core attributes that a good lead magnet needs to have include:
Provides Value to Your Audience
To get someone interested in your freebie, it must have a perceived value. This value could be educational, a tool that can be used (like a checklist), or something helpful or informative in another way.
Lead magnets should be specific to the audience you're trying to attract. For example, if you're looking for more remote managed service sign-ups, you might target businesses with a free eBook on "10 Ways to Secure Your Remote Support Team."
But if you were targeting the individual or family customer, then you might offer a free webinar on "Optimizing Your Router to Improve Bandwidth Speed & Reliability."
Provides a Quick Win
People are looking for quick wins when they're searching online. You want your lead magnet to give them that. This can be in the form of a free template that saves them time, or a comprehensive IT checklist for an office move.
Basically, it should be easy to read/use and not make the person work too hard for the reward.
Looks Attractive (Good Images, Headline, etc.)
Your lead magnet should be like a shiny object that grabs the attention of your audience. Something hard for them to resist. If you have great content, but a boring eBook cover image, then you won't get nearly as many leads as you could.
Pay attention to the layout and images that you use to advertise your lead magnet. It should properly reflect the topic that the lead magnet covers and have a catchy title or headline to engage people.
Call to Action That Leads to a Form
Once you have your lead magnet prepared, you need to properly set up a call-to-action that will encourage people to fill out your form to get the freebie. This is vital if you want the lead magnet to do its job.
You can advertise your lead magnet in a few different ways:
Exit-intent pop-up
On your blog posts
Via social media
Using pay-per-click ads
The most popular way to do this is to serve up the message about the lead magnet in a form prompts people to put in their email address to get the promised freebie.
Here are a few examples below of attractive IT business lead magnet forms.
In this great example from Data First Solutions, you can see attractive imagery used at the tops of this scan tool lead magnet. There is also an additional CTA if the person isn't ready yet to "Run scan;" they can get "More information" instead.
This is another nice example of lead magnet layout from Magnify247.com. Note the book image used to attract people and the great CTA of "Get the Book."
Ideas for Lead Magnets Your MSP Business Can Use to Feed Your Pipeline
Infographic
Infographics are like the eye candy of lead magnets. They serve up information in an easy-to-digest way using graphics and a just little text. They're also usually just one sheet and can make a nice educational poster that could be used by your audience for things like password security.
This type of IT business lead magnet has been shown to improve website traffic by up to 12%.
Here's an example from SONTIQ, below.
Get tips on creating infographics and links to sites where you can make them from our article on the Amazing Power of Infographics.
"How To" eBook
"How-To" is one of the most popular topics on YouTube and a great category of eBook. eBooks are an evergreen lead magnet that can keep bringing in leads year after year with only slight updates needed from time to time.
There are multiple eBook templates out there to get you started, and the technology realm is full of great topics you can use to reach your target audiences.
Potential topics for a technology-themed "How To" IT business lead magnet are:
How to Properly Secure Alexa & Other Smart Speakers
How to Prepare Your Small Business for HIPAA Compliance
How to Set Up Remote Team Security
How to Be More Productive With Windows 11
Checklist
Checklists promise a quick helpful tool that attracts many different types of potential clients. They help people from forgetting something important and can also act as a preparedness tool.
These are also very easy lead magnets to put together and are generally just one page.
Ideas for checklists you could use for your MSP business are:
Ransomware Preparedness Checklist
Office IT Move Checklist
Checklist for Securing Your Devices When Traveling
Checklist for Setting Up Your Home Office
Checklist for a Data Privacy Compliance Audit
Webinar
Webinars are used often as lead magnets. They have the advantage of being more interactive, where you can actually chat with someone in a Q&A after the presentation. Attendees also get to see and hear a representative of your business, which is more engaging than reading static content and helps you make an impression.
This type of lead magnet can typically generate leads that are closer to a purchase decision. Because, for people to take the time to show up for a 30 to 60-minute webinar on a subject means they're fairly interested in the content.
51% of B2B buyers say they are willing to share information about themselves or their company when registering for a webinar.
Guide
A guide is another form of eBook, but it's typically a little longer than the "How To" eBook.
The guide will go more in-depth on a subject and usually contain several chapters on the subject matter. If you are doing several shorter eBooks on a similar subject, like cybersecurity, you could combine them all into a guide lead magnet as a way of refreshing your content after a few years.
For guides, you want to use "meaty" IT business subjects that give you a lot to expand on, like:
Cybersecurity
Business Continuity
Digital Transformation
Remote Team Enablement
Scan or Assessment
A lead magnet that is perfect for IT businesses is the free scan or free assessment.
For example, many MSPs offer a Free Security Assessment which helps them get a foot in the door by pointing out potential issues the lead has and ways their company could fix them.
Data First Solutions, referenced in one of the lead magnet images I used earlier, has a great site to visit for ideas on how to do a scan lead magnet. Some that the company offers include:
PC Scan
Dark Web Scan
Vulnerability Scanner
Website Performance Tests
Access to an "Insider's" Group
With the growth of social media, a newer form of lead magnet has become a popular way to engage with potential leads. It's an "Insider's" group that can only be accessed by request.
You offer something of value specifically targeted to a group, such as "Technology Insights for the Small Business Owner" or "Cybersecurity for Medical Professionals." Create a private or closed group on Facebook or LinkedIn to attract followers. This means people can't just join, they have to request to be added.
Those that want to join your insider's group provide you with a little information that allows them access to your social content and interaction with the community you've built. You gain new leads and take advantage of the tools social media offers for sharing your messages and directly communicating with followers through DMs and post replies.
Keep Your Marketing Fresh by Getting Creative With Your Lead Magnets
There are multiple ways you can approach lead magnets, so change things up and try several of them. You may just find that you're able to better target and attract viable leads the more you experiment.
Do you currently use lead magnets? Share your tips in the comments.