When a customer gives you a testimonial, it not only feels great hearing that they're happy with your IT services or products, it can also be a very powerful marketing tool to drive new business.
According to Social Fresh, customer testimonials are the most effective form of content, with an effectiveness rating of 89%. People trust testimonials and reviews as much as a personal recommendation, which means they'll be much more likely to choose your company if you have them.
What's the difference between a review and a testimonial?
Reviews are typically managed on a 3rd party site, such as Google My Business pages or Yelp, and they'll be a mixture of both positive and negative feedback.
Testimonials are requested by the company providing the service/product and are typically positive and backed up by the person's name and/or company, rather than just a screen name.
There are a number of ways that you can use testimonials to your benefit to bring in more leads and sales for your technology business.
Tips for Requesting & Promoting Your Testimonials
A 5-star rating on a review will carry a certain amount of weight with a potential customer, and you definitely want to have them. But a testimonial can be much more powerful when it comes to the details.
For example: "123 Computers did a wonderful job on our network repair. Their price was very affordable, and we haven't had any downtime issues at all. We highly recommend them." – John Smith, Acme Accounting.
That statement and where it comes from speaks to a potential customer in a deeper way than most star ratings can and that's what makes testimonials unique from reviews.
Here are ways you can harness the power of testimonials to drive more business.
Use a Testimonial Template
You'll want to choose some of your best customers with whom you have a good relationship to ask for a testimonial and you want to make it as easy for them as possible by using a "fill in the blanks" format.
Using a testimonial template can invite them to share more than they might think of on their own and makes the process easier for your client. You can use a Word doc, email template, or fillable PDF to have them fill in and send back.
Use a question format to invite their feedback, such as:
What service did 123 Computers help me with?
What are three things you like about 123 Computers?
How did 123 Computers benefit your business?
What would you tell a company/person thinking of working with 123 Computers?
Don't make it too long, about 3 to 4 questions is good, and be sure to include the email that they are to send the testimonial back to.
Create Video Testimonials
Another engaging way to present a testimonial is through a video. Nothing is more compelling than hearing about a company right from the customer themselves.
If your clients are camera shy, you can still create a compelling video based upon one or more testimonials using fun imagery with the testimonial displayed in text with some pertinent IT photos blended in to illustrate the service.
Why do you want to use videos whenever you can?
Shoppers viewing video are 1.81 times more likely to purchase
Posts with videos attract 3 times more inbound links as text only
Using the word "video" in an email subject line improves click-throughs by 65%
Use Testimonials Liberally on your Website
Testimonials foster trust in your business. 72% of customers say that positive reviews and testimonials make them trust a business more. So, you don't want to hide them on only one page linked off your main menu.
Where should you put testimonials on your website? On every page, if possible. Remind customers what others that work with you have experienced and gain more trust as they're navigating through your website.
A few ways you can do this are:
Put different testimonials on different website pages
Use a rotating carousel of testimonials on every webpage
Post on Social Media
A great way to promote your company's testimonials is to share them on social media. You can also cross promote the business of your client by including an @mention of their company's social media pages.
This helps to further build trust for your brand and can help you use storytelling to further engage your followers. Who doesn't love a good story about an IT issue that concluded with a happy ending?!
Be sure to use a photo or video when posting your testimonial. Posts with visual content are 40 times more likely to get shared than those without it.
Turn Testimonials into Case Studies
You can take a testimonial a step farther by turning it into a case study. A case study gives a potential client more data about a particular project or service to help them make a decision. This is especially useful if your IT business works with companies and organizations.
A case study can be added to your website and formatted into an easy-to-print PDF that can be shared with decision-makers.
Some of the things to add to a testimonial to turn it into a case study include:
Photos of the project
A bullet list of the key benefits your company provided
Details about the specific tech you worked on (i.e. type of server or network equipment)
A problem/solution format
Share Via Email
Highlight a testimonial in your email newsletter or send a special email out with the testimonial by itself. This further brands your business positively for those subscribers and also could make someone think about the service you just highlighted.
For example… "That's a great testimonial about a cloud storage platform. Hmm, I wonder if we should start using that cloud storage too.'
Highlight the Best Part
Don't make it hard for people see the best part of the testimonial, highlight it for them in a call out. You can use a quote callout in a larger font or highlight it in a quote bubble. The highlight should be 1 or 2 sentences and should "bring the sizzle" of the testimonial.
This will solidify the most important point that you want to get across about your business and can be easily inserted in multiple areas of your website and marketing.
Use Testimonials in Your Offline Marketing Too
Postcard, brochures, PowerPoints, all of these can be great places to use testimonials in full or a callout of the highlights. Testimonials answer for people some of the main things they want to know when they're considering working with your business, like "Can I trust this company?" "Are they going to do a good job for me?".
According to the Content Marketing Institute, 70% of people will trust a recommendation from someone they don't even know.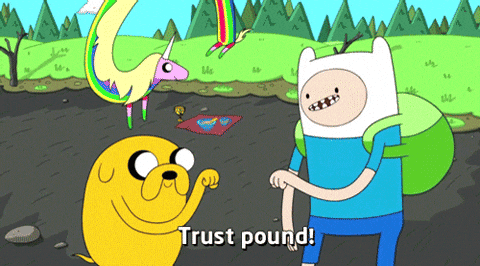 Be Consistent with Testimonial Elements
Using the testimonial template will help you gather consistent testimonial information, but you also want to be consistent in how they're displayed on your website and other media. Consistency fosters trust and makes your testimonials more trustworthy.
Key elements that you want to include when displaying testimonials are:
The text of the testimonial with quotes around it
Name, and company if applicable, of the person giving it
Date
Photo of the person giving the testimonial, if possible
A link to the customer's website, if applicable
Another great element to add if they've been with you for a while is how long the testimonial giver has been a client of your business.
Use SEO on Testimonials
When posting testimonials on your website, there's no reason not to also use good SEO best practices. Such as using keywords and meta tags that match the keywords highlighted in the customer's quote. You can also add a line or two under the client testimonial, that is clearly illustrated as separate from the customer's quote, that links to the appropriate product or service.
For example: "Click here to learn more about our anti-virus solutions."
Blog About Testimonials
Testimonials are a great subject for your blog. You can use the story of how you helped the customer as a jumping off point and then go into more detail about the particular product or service that is featured in their testimonial.
Blogs are an excellent cornerstone for your IT business content marketing and using them along with your testimonials helps you engage users with fresh content that tells a story and helps your company generate positive social proof.
Use Testimonials Next to a Call to Action (CTA)
Give a website visitor an extra boost to click your CTA by putting a testimonial right above it. If someone is on the fence about signing up for your managed IT services plan, a testimonial saying how much someone's business has saved with it might be just the push that person needs to make a buying decision.
Create Testimonials Page
While you do want to use testimonials on every page of your website possible, it's helpful for your visitors to also have a separate testimonial page that lists all of them. Some people like to read down through multiple testimonials and having them all listed together on one page can also show the depth of your business reputation.
A separate testimonials page is also an excellent SEO opportunity to use keywords like "your business name review" and "your business name testimonial".
Testimonials are Golden Nuggets of Marketing
Testimonials often go underutilized by many businesses. They're like little golden nuggets of marketing, so use them to your advantage! They inform potential clients, help build up your business reputation, and encourage people to do business with you through personal recommendations.
How have testimonials helped your business? What testimonial tips do you have for other IT business owners? Share your stories below.